Have you ever hired a programmer to help you build a simple fix, only to find the project fall apart, or worse, the deliverables are completely useless? Maybe you've invested hours looking for a programmer or marketer to help you grow your business, but you've never found a way to actually make the outsourcing worth your time.
If you've been in business long enough, you know that being oversold, under-delivered, and sometimes even robbed blind can be a reality when hiring an outsourced team online.
Well, I've got some news for you. We're Tech Guys Who Get Marketing, and we've been working with Fortune 500 companies, quiet millionaire business owners, and exciting nonprofits since 2006. Our clients regularly hire our highly talented team of developers, marketers, and designers to help them meet their goals and become more profitable. We believe in serving our clients for life and giving them everything they need to be successful. Our Project Managers will work closely with you to keep you abreast on movement in your project while our team completes the work. You are only charged for the exact amount of time it takes us to work on your project. This means if we come in under estimate, you're not charged the excess amount.
Our disciplines are wide, but our goal is the same:
We remove the hurdles that technology and marketing create, so you can be more effective in selling your product, service, or message.
Business owners need visibility to their key performance indicators, and the right technology can make that a breeze. The wrong technology will cause your team to scramble every quarter to assemble the data and present it in a useful way. The same can be said with marketing efforts; a marketing campaign must be audited on KPIs like the Cost per Acquisition, Lifetime Value of a Customer per Lead Source, Average Stick Rate and more.
Our services include...
Salesforce Cloud

Sales & Service Cloud Development and Deployment
Force.com App Development
AppExchange Listing Marketing
Custom Salesforce Development

Marketing Services

Go To Market Strategy
Traffic Acquisition planning and implementation
Product Launch planning and implementation
Persuasive Copywriting
Offline and Online Marketing
Direct Response Design

Custom Development

Custom PHP Developers
API Integrations
Shopping Cart Integration & Support

Mobile Apps

iOS & Android Development
Knowledge Based Authentication
Mobile CRM Development
Click here to view a more comprehensive list of the services we provide:
The reason we are in business is to ensure that your marketing fuels your business and your business is built on sound technology.
Every project we do is unique. While our minimum project size is about 50 hours, we find that we work best when we can meet with your team, identify the 20% of work that will produce the 80% of results, and then get to work. Typically, smaller projects (50-100 hours) are researched in depth and a full list of tasks to be performed is created, which is delivered for our clients review. Upon their approval, we then perform the work, keep them updated with any roadblocks, and drive towards a useful conclusion. Projects larger than 100 hours are handled in using agile development methodologies. We use state-of-the-art technology to track the progress of User Stories, meet regularly with our clients to discuss the work involved in a Sprint and all deliverables.
As some of our long-term clients have said -- We're not the cheapest team. That's absolutely true. We charge $195 per hour for our marketing, development, and design work. We're not as cheap as advertisers on Craigslist. But our long-term clients continue using us over the cheaper alternatives because they know they can leverage us for highly complex tasks and projects. We will provide the most value for your company by assessing your current technology and marketing landscape and building a holistic strategy that addresses your needs. Then we set out to exceed your expectations.
We've helped industry experts pull together information products, build their marketing funnels and write their copy, then help them successfully bring in 7-figure sales over the course of a short 5-10 day product launch. Our developers have untangled some of the most complex CRM integrations, cleaning the data and making the user experience far superior than when we received it. We've hardened the security around sites that have been constantly in the aim of unethical hackers, keeping them online during their most important product announcements.
Simply put, no job is too complex for us. Our team salivates at the opportunity to dive into custom coded projects, find bugs, and resolve them. Our marketers find their joy in building and proving go-to-market strategies for businesses and entrepreneurs with life-changing products to sell. Our designers take their gifts of form and color to make a user experience so good, we see measurable increases in sales and conversions.
We take the guess-work out of your marketing and technology needs...












---
Below is a non-exhaustive list of the technology we've worked with before. In fact, we destroyed our transcription robot while trying to compile an exhaustive list — he just gave up and took early retirement. Every week clients bring us new technology needs and they have the confidence that we're the right team for it.
Customer Relationship Management (CRM) »
If you currently have a CRM, you know that it's the single most important piece of technology in your business. If you're not currently using a CRM to manage your business, give us a call to learn how a CRM can greatly improve your bottom line AND make you more efficient.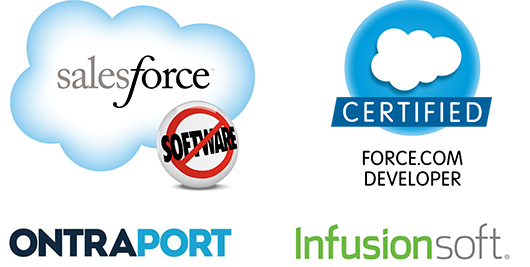 Salesforce.com Service Cloud — Silver Partners
Salesforce.com Sales Cloud
Salesforce.com AppExchange Development
Salesforce.com AppExchange Apps & Utilities:

DemandTools
DupeBlocker
FinancialForce
VerticalResponse
iContact for Salesforce
DocuSign
Linvio Payment Connect
PredictiveResponse

Infusionsoft
OntraPort / Office Autopilot
Email Marketing »
Email is still the best way to keep in contact with your customers and leads. We can help you manage your list, create new email campaigns, and more, no matter your email provider or platform.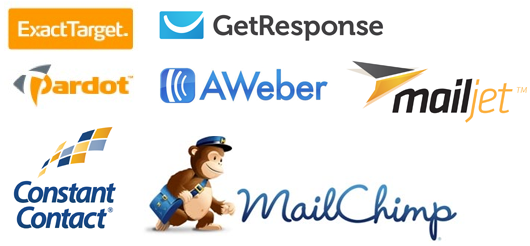 ExactTarget
Pardot
Marketo
MailChimp
SilverPop
Interspire
MailJet
ConstantContact
GetResponse
Aweber
Mobile App Development »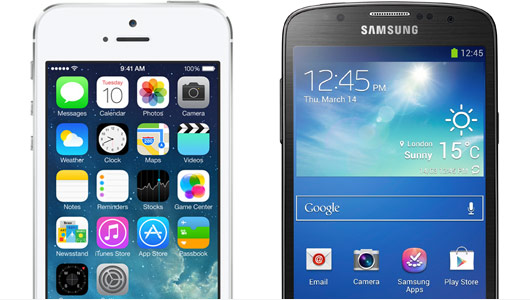 Few areas of technology are growing as fast as mobile, with hundreds of thousands of new consumers entering the smartphone market every month. Providing a proper mobile experience for your customers is crucial to your success.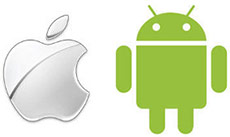 Content Management and Membership Management »
Most websites are powered by a Content Management System (CMS), allowing anyone to make updates and post new content. We have experience with most CMSs on the market. Whether you're building a new website or need to implement a new design, or just add a few new pages, we can help!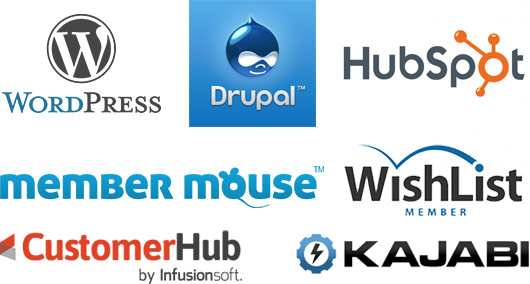 WordPress
Drupal
Hubspot
CustomerHub
Wishlist Member
Digital Access Pass
iMember360
MemberMouse
Kajabi
Affiliate Management »
An affiliate management system allows you to reward others for sending buyers your way. If you're currently looking into affiliate systems or have custom needs, Tech Guys has experience with many affiliate management systems.

Has Offers
Post Affiliate Pro (PAP)
Cake
Infusionsoft
1Shoppingcart
Clickbank
Custom Programming and Development »
Our developers include experts in wide array of programming languages and are constantly staying up to date with the latest technologies. Our development team also has experience working in the integration of many APIs. Got a custom programming job that no one seems able to tackle? We've got you covered.

PHP development
Custom API Intregrations
Salesforce APEX
Salesforce Visualforce
Javascript (jQuery, MooTools, etc.)
CSS3
HTML5
Java
ColdFusion
ASP.NET
Perl
Python
Ruby on Rails
Node.js
Bootstrap
Marketing and Advertising Platforms »
Knowing the advantages and disadvantages of each of the current and emerging advertising and marketing platforms is a full-time job. Let us take away the guesswork and find you the traffic sources that will bring you the best ROI while building awareness of your brand and product offerings.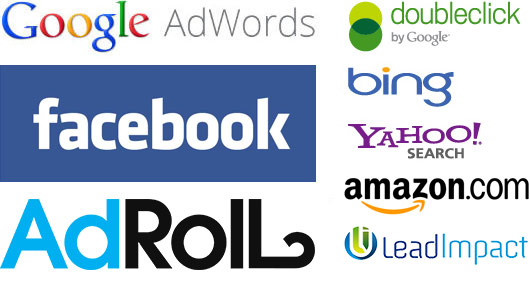 Google AdWords Display Network
Google AdWords Search Network
Google AdWords Remarketing
Facebook Ads
Facebook Exchange Remarketing
AdRoll
Retargeter
Niche-specific forum ads
Doubleclick
Google Mobile Ads
Bing Ads
Yahoo Ads
LeadImpact
Moz
Yelp
Amazon.com
Google Shopping
NexTag
Twitter
Ecommerce and Shopping Carts »
With the amount of services available, selling your products online can be confusing. Do you need a full shopping-cart or a custom checkout experience with post-transaction upsells, and specific shipping requirements? We find that many business don't fit exactly into a single service. Let our team help you determine the best fit for you needs.

1ShoppingCart
UltraCart
Infusionsoft
Ontraport
Paypal
Magento
Kajabi
Clickbank
Shopify
BigCommerce
WooCommerce
Video Platforms »
How important is video? Data from comScore tells us that approximately 89 million people will watch 1.2 billion online videos. Today. Whether it's watching videos on their smartphone or desktop, being able to deliver your content across all devices is more important than ever. Are you properly leveraging your video content or missing out on key demographics?

Wistia
Google Hangouts On Air
HTML5 Video
Amazon S3 video hosting
Ustream
Viddler
Vimeo
Youtube
Analytics and Optimization »
"If you can't measure it, it didn't happen." "Always be testing." Those two quotes sum up our simple philosophy. Whether you're spending ad dollars on Facebook ads or making calls from a call-center, you've got to be able quantify the results of those efforts. In addition, you HAVE to be actively trying to increase the performance of your efforts. With the right tweaks we've been able to increase conversion rates by as much as 800%.

Google Analytics
Google eCommerce Tracking
Google Content Experiments
Optimizely
Visual Website Optimizer
ClickTale
Clicky
CrazyEgg
Piwik