Marketing
There's more to marketing than running an Adwords campaign. Out marketing team includes experts in traffic and lead generation strategy with eye for testing and optimization.

Development
Starting with a solid foundation is the most important part in creating a successful business. We'll work with you to develop the technology and solutions your business needs to run on.

Implementation
Our team of expert designers, marketers and programmers take pride is seeing a project to conclusion. From website design to a custom Salesforce build, our team does it all.
Do you need help with Cloud Development, Marketing Strategy or Custom Application Design?
Our certified team of developers, designers and marketers can help you build a future you'll be excited about.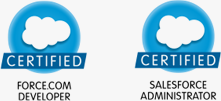 About Tech Guys Who Get Marketing...
Tech Guys was founded in a small house on the east coast of Florida in 2006. As Silver Partners of Salesforce, we're firm believers in cloud technologies, and we stay on the cutting edge. We've helped solopreneurs and Fortune 100 companies realize their potential by reducing the roadblocks technology and marketing can cause. Since the success of a business is measured in its efficiency to convert leads to customers, we believe technology and marketing must be understood holistically in order to rise above your competition.
As a US-based location independent company, we celebrate that our team is scattered across the country, and some, across the world. Our team of highly talented developers, direct response designers and marketers help are leveraged by our Project Managers to identify the problems you're facing, to build a solution, and to help you take the reigns so you can be successful.
How can we help?To learn more about our different services, click on the one that best speaks to your needs: