Social Media + Holiday Shopping = One Really Happy Client!
We work with a variety of clients at Tech Guys, and we always love when they want us to share a success story. As any good marketer knows (and sometimes dreads) a holiday sale can bring in great business. But after the midst of reports from the big names about social's seemingly poor performance over the holidays, I was pleased to revisit this campaign to show that holidays don't just mean big sales – they're an opportunity for innovation and breaking new ground for a business.
In other words, MOAR BIG SALES.
Just from places you (and they) could never expect.
Read on about Gary Nealon's success with his site, RTA Cabinet Store (shameless plug: as featured on HGTV and diY Networks! No, seriously! HouseCrashers, brah!) and the success of social.
The Proposal
It started innocent enough. After some revamps to Gary's site and a jumpstart on his social media prior to November, we had dabbled in some highly targeted Facebook ads which performed at meh-levels. We garnered some fans, but like most businesses, carving out your social niche is a bit of a learning process.
During one of our weekly discussions, we talked about the possibilities of contests and looked at what was done last year to compare success rates, using sales as the main factor – because I'm metrics-crazy, we also looked at Average Value and overall conversion rates as secondary wins. While I'm not going to show you raw dollar numbers, percentages speak volumes. Sometimes they speak in pie, and if you don't love pie, you're just un-American.
So here's the sales percentages for last year, broken out by source (sadly, I wasn't around last year, and Analytics was not as robustly installed as it is now):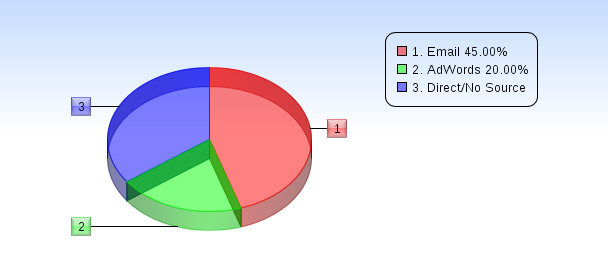 So the proposal was simple: use our existing assets (email list) and use both traditional email marketing while also utilizing Facebook's Custom Audience Feature to squeeze every last drop of remarketing power out of what we knew worked. We would run the contest on Facebook and offer customers a really awesome prize to participate and test out social media as an actual sales platform.
The Action
We started the contest a week prior to Black Friday and branded it as a Black Friday prize, knowing full well everyone would already be thinking about what kind of deals they'd be digging up after gorging themselves full of whatever gravy-based dish they chose the day prior.
We emailed sparingly throughout the week to remind existing customers of the contest, and we ran Sponsored Stories as well as Facebook remarketing ads to support the campaign. While we gained a lot of fans + a lot of engagement from the giveaway and ended up giving away a great prize, sales were not rolling in as planned come Friday.  We had released our Black Friday coupons right before the ending of the contest to get maximum eyeballs on our offers (Pro-Tip: ALWAYS segment your social coupons from your other coupons. In fact, segment coupons down to the bone, it will save you so much time come post-analysis) but the orders weren't exploding as we hoped they would.
One rule I've learned while running campaigns: always be adaptable.
We looked over our current strategy late in the evening and came up with some modifications to our campaign; increasing the value of the coupons and also taking advantage of Facebook Offers by expanding our social budget a little – one of the more powerful aspects of Facebook Marketing is the ability to market to ONLY your fan's friends, allowing you to get valuable social proof alongside your ad copy.
We revised email lists and scheduled them out to continually go over the weekend with small contests for giveaways during Saturday and Sunday, all the while warming them up for a big announcement on Cyber Monday and pushing them towards our social media.
We prepped for Cyber Monday, still brainstorming different concepts as we had some time to take what we had already learned from the last few days and apply some strategy to it. We eventually came up with a really awesome concept that played up to the core elements of social: sincerity and rewarding engagement.
We ran the numbers, and set a very simple goal for customers: we told them the amount of kitchens we wanted to sell that day. If we reached that number, we'd give away a brand spankin' new appliance set, and everyone who put in an order that weekend was eligible, including new orders. We kept our audience passively engaged  via social media and released even better coupons to really take advantage of the online traffic searching for deals that day.
We crossed our fingers, scheduled our posts, and then…
The Results
We knocked it out of the park.
We watched gleefully as Cyber Monday outperformed Black Friday. But I've rambled on long enough, here's some tasty visuals for you: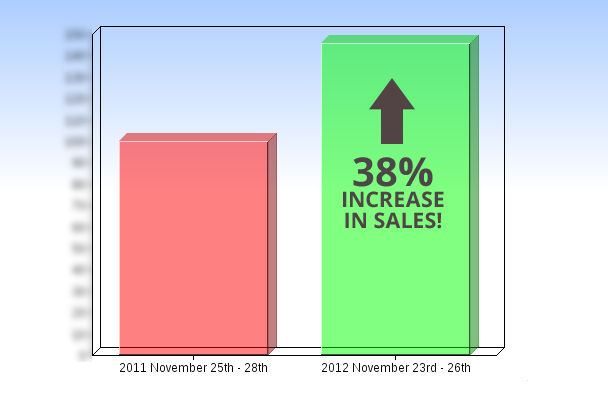 The Consequences
Success tastes sweet, and when I went back to do a post-analysis, I found something even more surprising. Remember how I mentioned segmenting coupons?
You'll want to, because sometimes, Analytics is a pain; never trust UTM data fully. The importance of drilling down beyond Analytics is beyond paramount, especially when dealing with the tricky pathways of social sales. Pie isn't tricky, so here's a quick breakdown of sources in the most delicious way of conveying data known to man – PIE CHARTS: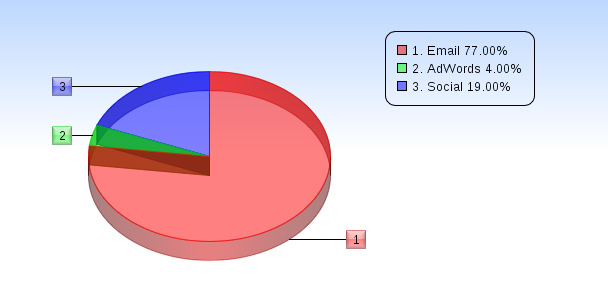 As you can see above, social accounted for 19% of Gary's sales, outperforming AdWords by a large margin – and while I can't share dollar amounts with you, it was far more cost effective and had a higher than average order value than a search-based sale.
Before I go further, I want to stress that we are talking about selling cabinets on Facebook. Can YOU remember the last time you had any sort of discussion on Facebook about your kitchen cabinetry? If you can, I envy you, but it's not exactly the kind of product you expect to see a lot of social traction on.
But, by the powers of analysis, quick thinking and working with a business owner who's eager to open up new channels and respond to customer's needs, social outperformed everything we were expecting it to do.
All it takes to find success in social is finding out exactly what resonates with your customer
s and crafting something compelling, then using Facebook's Advertising platform to target friends and other interested demographics. Too often I see "social media marketing" as a custom Facebook app that shows a store in a tab or simply saying you have a Facebook page and acquiring Likes.  A page with a ton of likes that's NOT posting some sort of offer is like the equivalent of putting an opt in form on a squeeze page and then never creating an email sequence to nurture sales – you have to be engaging and have a compelling offer with a simple way to participate for fans. I was checking stats every hour to see if there were any more insights to be gleaned, and Gary and I were constantly in contact with one another to revise strategy, and all of that paid off big in the end.
As a result, we had some fantastic data to dig into as we planned more holiday campaigns, and hey, since we're reaching the end of this, those holiday campaigns are still going on at RTA Cabinet Store's Facebook Page. You can still totes win a garage makeover before the end of the New Year, ain't that just the cat's pajamas?
If you couldn't get enough of shameless plugs, if you're looking for similar success in social, we're for hire – Gary is just one of our successes in social who's chosen to share his story – will you be the next?
---
Got a Question or Comment? Let us know...