Marketing Analysis: Simple Steps to Help You Compete in Today's Online Marketplace

The first place to look for ideas might actually be your competitor.
There are many tools out there you can use to determine your competition's marketing strategy. These tools can help you figure out where their traffic is coming from, how they are getting it and how are they engaging their audience. You can even see what types of content they are sharing and if they're targeting a specific audience that might be in a niche network.
Setting Your Goals
But before you start your competitive research, you must determine what your goal is; otherwise it's easy to get caught in the weeds of your research. The goal shouldn't be to just copy everything your competitor is doing, but to identify what they are doing and how you can do it better. Look for their areas of weakness and gaps in their strategy that you can capitalize on. The goal isn't to match your competition, it's to exceed them. But be sure to avoid negative ads. Remember not all publicity is good publicity.
Keyword Analysis
The first step in determining how competitive you are in the online marketplace, is to look up the keywords that bring organic traffic to your site in Google Webmaster Tools. Once you know what keywords are bringing you the best traffic, determine if your competitor is also winning traffic from those same keywords. Try running some simple searches for those Keywords and see where your competitor falls in the ranks. If they are ranking higher than you, this is the first place you will want to look for beating your competition in organic traffic.
A great first step to building organic search traffic, is putting some of those keywords into the URL of your pages and adding your targeted keywords to blogs or media content that you have on your site. Creating high-quality, relevant content is what will help drive you up in the ranks. Trying to game the system by over-stuffing your pages with keywords and paying other websites to write about and link to you will only get your search results buried deeper by the search engines.
Research Referral Traffic
After looking into organic traffic, find out what referrals they are getting. There are backlink tools out there such as Majestic and Open Site Explorer that will extract what your competitor's top backlinks are. Be sure to keep in mind what kind of sites they are. Is your competitor paying for that referral, did they contribute content, or is there just an abundance of links. If you can prove those sites would be a good source of traffic for your business, look into how to get your site link added. Sites like Yelp, or other rating agencies can drive traffic, if you have a good rating. It might be a good idea to incentivize your customers to write a review or make it easy for them by adding a rating button to your page that automatically posts to the rating site. For some industries, especially service-based businesses, it's very important to have a lot of good ratings for your brand.
What is Your Competition Creating?
It's worth looking into what kind of content your competitor is creating and sharing. Content marketing has become such a dominant presence in an overall internet marketing strategy. By looking into your competition it will help you create content that is similar or at the very least, it can give you ideas into something they are leaving out. There might be a piece of off-topic content that is working really well for them.
Checking Social Media
Finally, find out what social media is saying about your brand and your competitors. You can do a manual query by entering your URL, your competitor's URL, or specific keywords into a google search like this: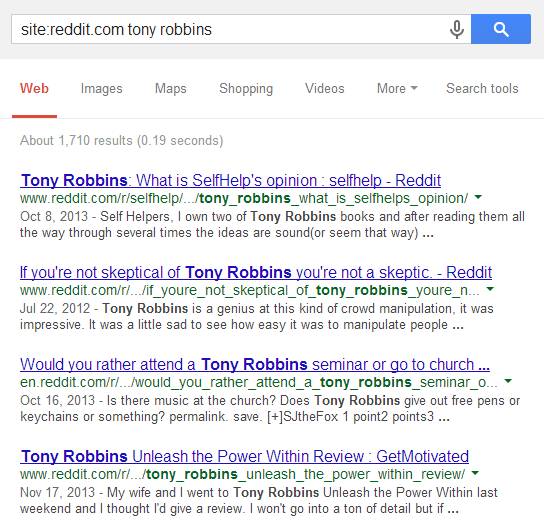 This will give you an idea of who your target market might be and what they seem to find interesting. Having a good recommendation on a place like Reddit can drive large amounts of traffic to your site. It's important to engage with your audience where they gather. You might find out that you have a specific target audience in a niche network. This will help get your message to those that are receptive to hearing it.
Use this research to get ideas, but you ultimately must test it and have the metrics to back up your decisions. Don't waste your time and money on ideas that don't work. Also, continue to track your success and your competition by using Google Alerts. Being and staying competitive is a constant battle.
---
Got a Question or Comment? Let us know...