Why Google+ Will Still Be Around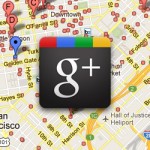 You remember, back in the day, when everyone was all abuzz about Google+? The numbers kept growing higher and higher, people kept threatening to ditch Facebook for the pristine spartan designs and privacy offered by Circles…
Then it all kind of lost steam, didn't it? The way people talk about it now almost seems as if it's another Google Wave – a product with big promises and no delivery. Just another one of Google's weird little projects that fell by the wayside, right?
Nope. Not if Google has anything to say about it.
Google's clever. And here's why…
It's social, but not the way Facebook is.
Let's think about what Google IS for a moment: it's a way to find information. Getting more relevant information to you faster is Google's ultimate goal. So how does a social network play into this?
You can look at the ubiquitous +1 button, which hasn't gotten near as much traction as the Like button, but, again – Google's goal is to provide you with relevant information quickly.
The dominoes started to fall when they unveiled their universal privacy policy on March 1st, 2012 – this means they've basically bundled up your Gmail account into YouTube, Maps and G+ and unified them under one account.
In addition, Google is very much pushing to dominate the mobile market with a focus on local – which means they WANT local businesses indexed, accounted for, and easily pulled up in a search. This is even further shown when they partnered up with Zagats to serve up reviews for local businesses with G+ Pages. If that wasn't enough, they also did away with the 'Anonymous' reviews one can place on businesses through Google Places – you're now required to sign in to an account that ties to your G+ Profile – a profile where you are required to use your full name.
So, Google has now linked their user's accounts to a G+ profile, partnered with Zagats for review power, and made users accountable for their reviews. So what?
The big change started rolling in around August.
It's easier to show than explain, so, let's take a look at this: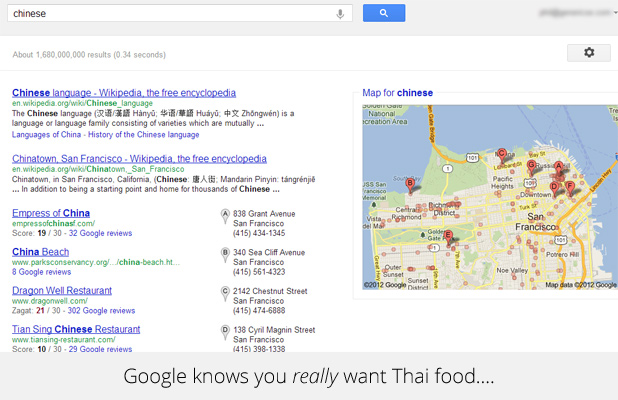 All I searched for was "chinese", but because I've got a location set – and Google will even try to set your location by geotargeting your IP if you're not signed in – Google starts displaying local results for chinese food places in my area. This is the an across-the-board change that affects restaurants, auto care, any kind of local business you could think of – Google pulls up this style of search instead of its once normal website results.
If you're a business owner, then that screenshot can make you pretty nervous – you'll notice it takes up more than half the page, and the local, map-based results are at the top, far above any local business that poured money into optimizing their homepage for relevant keywords.
So what's Google doing, and how does G+ play into this?
Google's being smart – they know they can't take on Facebook. But they also know that while they can't force people to use their social network – though not for lack of trying – they can make it attractive and useful to use.
What they ARE doing, however, is giving a pretty compelling reason for businesses to open Google+ Local Pages in order to remain on top and increase their visibility in local search. This, coupled with a review system that ties everything together seamlessly with your own personal Google+ account and shows up when you search on Google Maps and even in regular SERPs, gives people a reason to participate in G+ – it may not be the same style of interaction with Facebook, ie, reposting a hojillion memes from George Takei – they're gearing it to be a more useful interaction that provides them with a repository of meaningful social interactions they can include in their results.
Now, you may be thinking – "Well, that's just like Yelp! That's not innovative or clever."
Yelp, however, doesn't have the massive coverage that Google has – think about it, anytime you search on an Android phone, it ties into this system. Anytime you do a search on anything local, it ties into this system. No signups or registration required if you've already got a Gmail account – it's completely seamless, or at least, that's what Google is banking on. They've positioned themselves to provide excellent information, partnered with a very well-known review system to further increase trust and recognition, and modified their search results to include these local listings first.
Eventually, the smart businesses are going to get their G+ Local Pages up and reap the rewards of staying ahead of the curve, and they'll be the driving force for making attractive and interactive Pages on the G+ service – and since everything is so seamless because of the changes, it makes adding a review far more simple and attractive to a user than looking up a business on Yelp, registering or signing in, then reviewing it.
Google wants to be an authority on local – and this is a very clever way of doing it. G+ may not be a Facebook killer, but it doesn't have to be to be successful – it just needs to be a good resource of information. With their push for local businesses to get social and provide their customers with a way of interacting with them in a review-based environment, I see G+ as being their gateway into creating local communities and repositories of very specific information – something which Google would never see as anything but success.
So, while some of us may be disappointed in the lack of interaction and cat memes on G+, I think this is the direction they're heading – leveraging social information in a way that's useful to the user and incorporating that into their search results. This can only get better for Google as more and more small businesses find an easier way to establish a presence online by creating a G+ Local Page rather than shelling out cold hard cash for an optimized website, more Android phones are sold, and more reviews get added.
---
Got a Question or Comment? Let us know...