Here's why you DON'T need a new website…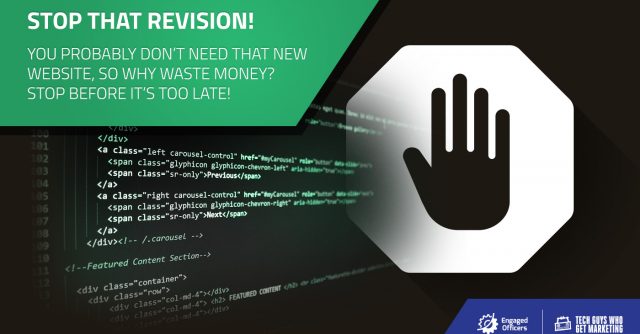 I was prepping for a talk with a prospect today, and something about their requirements got me thinking. This is what they thought they needed from me:
> Rebuild our website
> Swap out the current shopping cart with a new tool
> Integrate a fancy email autoresponder tool
What did this laundry list of needs tell me? It told me this: that, in their eyes, technology was the only thing impeding their goals of selling more.
Hold up. We're talking about money here. Spending precious dollars in the hopes of making even more precious dollars back. But was that really necessary? Where was the guarantee?
Did they really need to invest serious cash in order to make more sales happen ASAP?
My answer? No way. And neither should you.
Are there exceptions? Sure.
If for some reason…
….your shopping cart is broken and unable to process orders;
….your website is full of Flash and unable to load on a mobile device;
….your current email tool is such garbage that you can't mass-email your list (and even then…)
Then sure, go ahead, maybe throw some money at investing in new technology.
But barring those glaring errors that need immediate care, don't assume that you need a complete overhaul to your technology just to increase sales.
I can't tell you how many of the businesses I've step inside in my career are chomping at the bit with piles of checks ready to be written before really understanding all the possible solutions to increasing their sales. After just 30 mins on a call with a prospective implementation client, I'm typically able to save them the immediate expense of overhauling their technology because, many times, they already have cash-rich assets that are just begging to be tapped if they just know where and how to look for them.
Like the cherry trees just up the street from me, the money is on the branch. It just needs to be shaken loose.
Here's a short hit-list of what I look for in the companies that I step into as their interim CMO when I try to bring in more sales with their current tech and mailing list:
How many people have purchased from you multiple times before?
For your regular customer, what's the average order value?
For your top 5% of customers, what's the average order value?
How many people have showed interest to purchase but have yet to purchase?
With these four simple questions, we can quickly uncover simple ways to drive more revenue in the business.
With the answers to those questions in hand, I'm able to construct a simple plan resulting in the realization of the cash-in-hand prospects that are waving their dollars for the taking.
Want to know my secret weapon to getting cash into a business fast?
It's a little unheard of in today's digital age…
Pick Up the Damn Phone.
The fastest way to make a sale is to quickly run a report of those who you already know have a propensity to buy. Then to get their phone number (by any means necessary!) and call them. Have a real conversation. Pitch them on the phone your next product. Get them to take action. Hear their objections; understand where they're coming from. If you do, you'll get sales immediately and without the need for an expensive technological rebuild.
You can even run their credit cards with Paypal, if you have to. There's no reason to over-complicate the solution to more sales fast.
Pick Up the Damn Phone is a secret to a lot of business problems. Miscommunication with an email or text? PUTDP.
Now, about that prospective client I was talking about….the one who wanted their website overhauled to increase sales fast…… Does a new website need to get built? Absolutely. Their site isn't mobile responsive. The branding and overall feel is dated. Their copywriting could use a serious overhaul. Their shopping cart is … gasp! … Paypal. So maybe their requirements weren't all that absurd. But they also have existing opportunities that could cost them virtually nothing.
Their website isn't great, but it works. It has worked and it will continue to work.
So what is my solution for them? Let's use that low hanging fruit to get cash out of the business ASAP and then use that cash to pay for the implementation services they need.
Typically, in a 60-90 minute call, I can help the prospect uncover ways to generate significant amounts of money in the business by tapping assets they've otherwise overlooked. Once you find them, it's so easy to get that cash fast before jumping the gun on technology spending.
If this sounds like a call you'd like to have, we're offering a Marketing and Tech Audit without risk to you. We are charging $5,000 for the 60-90 minute call, but you only pay if you're blown away. No harm in taking the risk, is there?
If you're serious about growing your business, I can think of few things as important as your marketing and technology. For your risk-free Marketing and Tech Audit, simply sign up over on this page and we'll be in touch.
Have a great week!
Casey
PS – Next Tuesday, August 2nd, 3pm Eastern (noon Pacific), Mike and I are hosting a free Tech and Marketing Insider webinar on Product Launches, Machine Learning and the Dollar Shave Club. The webinar will last about an hour. Click here to RSVP.
PPS – If you're going to be out in Los Angeles Aug 4-10, send me a note. I'll be in town between events and would love to catch up for coffee. Or if you're fun enough, you can be my plus-one for a trip to the Magic Castle! :)
---
Got a Question or Comment? Let us know...