Central Coast Neutraceuticals was forced to pay $1.5 million after using Oprah and Rachael Ray's name, without permission, to sell garbage weight loss products… and it's back again!
This past weekend, my parents were in town to celebrate my birth some 677 fortnights previous. Libations, dancing, chocolate chip cookies, and a new vacuum. Thanks M&D!
While my folks were here, I was on Mom's computer helping her with a website she's using for a non-profit. Part of the help involved me on her Facebook, and I was struck when I found the following ad: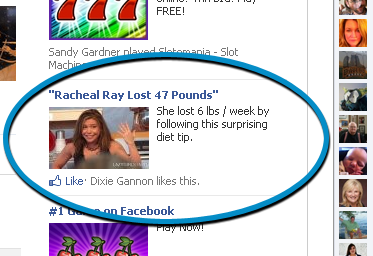 Seeing this made my stomach churn.
Did they think that misspelling "Rachael" would ensure they were within the law? Well, they're not. Did they think selling a weight loss product with Ray Ray's name on it would pass the legal test? Nope again. You see, back in April of 2010, Rachael Ray made a formal declaration with the Federal Trade Commission stating that she has never promoted an Acai Berry product. Nothing has changed – she doesn't promote anything, unless she can pronounce the letters of the initalism in a cutesy New Yorker way (Eee-Vee-Ohh-Ohh!).
Back to the ad… I did what every marketer does — I clicked the ad to see what they were offering. After a few redirects, which probably are the reason Facebook OK'd the ad (they had it redirect to page A, got approved, then changed the redirects to page B), I ended up on the following URL:
www.rachael.com-2.tv/blog/lose-weight-fast-mwi189x22.php
Look what they did here – These scam artists have made a subdomain on a subdomain, giving the lay user a URL that looks like "rachael.com". Instead, however, the 40+ year old married woman these ads are targeting sent them to the domain "com-2.tv".  I tried to do a WHOIS on the domain and couldn't find much. Looks like the domain is on a server in Lansing, MI, which doesn't tell us much. I did a Reverse IP Lookup and found the following other sub-subdomains on the same IP:

More crap. More affiliate lies. More garbage domains, operated for the sole purpose of scamming people out of money. See "ConsumerReview.com"? Think your parents might fall for that? It's sneaky, unethical, and … it works. That's a problem that we all need to work together to fix. Maybe we create our own "Occupy Ethics" movement, where we shut this garbage down and are all a beacon for good, ethical messages? Something like that would be banned from the dark shroud cast over the affiliate conferences across the world, I imagine…
The landing page for the "Rachael.com" page is a "personal blog of Rachael Ray" and is a complete lie. They are promoting two products: "RevitaSlim Acai Cleanse" and "Max Colon Cleanse". Remember – Rachael never promoted an Acai supplement, as she declared. The site is a typical "personal blog"-style site that promotes low-cost offers that have high an automatic billing after 14, 21, or 30 days. In this specific case, RevitaSlim Acai Cleanse costs $5.95 for the first bottle (just pay shipping!), then whacks you for $79.41 + $5.95 for the second bottle. BAM. After that bottle is shipped, the clock starts for another 30 days… "you will receive a fresh supply of the RevitaSLIM approximately every 30 days at the same low price of $79.41, plus $5.95 for shipping." Pretty deceiving, especially since I had to go to the Terms of Service page to find out what the pricing is.
"Max Colon Cleanse" (which sounds like sooooo much fun) is similar: $5.95 for shipping and handling on the first bottle, then "you will receive a fresh supply of the MaxCleanse approximately every 30 days at the same low price of $82.61, plus $5.95 for shipping. "
Doing a little basic addition here, we find that an unknowing woman who idolizes Rachael Ray and is just listening to her favorite author and TV host paid a whopping $185.82 in the first month! This is misleading — the original message was that Rachael Ray lost 6lbs/week following "this surprising diet tip." Well, I guess it IS surprising!
Final remarks:
Deceiving your audience in order to make a quick sale, conning them into a recurring billing that they were not aware of at time of purchase, using a celebrity without endorsement or selling garbage and calling it gold — that is the scum of the internet. That's the reason people with great messages can't get them to the masses.
Appreciate your customers. Treat them like they deserve to be treated. Don't burn your data. Don't sell this garbage – Sure, you can make $185 worth of sales this month, but what about next month? Why would these people ever trust you again? Your best bet is to create a long-term business that supports trust and your customers needs, while making you the money you deserve for your smart and hard work.
Cool?
---